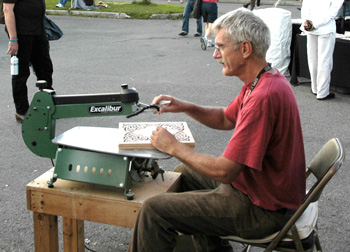 Ron Tremback and Patti Robertson have designed and created fretwork full time since 1992. Patti also creates one of a kind woodburned (pyrography) creations. Ron & Patti are unique in Canada in that they make a living with their craft. As well as making the more traditional fretwork subjects such as, wildlife and silhouettes, they are well known for their more esoteric subjects, such as, celtic designs and ancient symbolism.
Ron sets up, saws, and contributes to the design process. He has been an artisan for more than 40 years, making everything from moccasins to houses and cabins. His love of fine detail and intricate designs led him to become a professional fretwork artist 24 years ago.
Patti draws the patterns, creating an eclectic mix of images to produce their 450 current designs. She also assembles and finishes the fretwork items. Patti has more than 30 years experience as an artisan creating many different kinds of arts and crafts. She has experience in weaving and knitting and has formal training in upholstery. She has also done papermaking and beeswax candle making, and has given workshops in these art forms.
They have now exhibited at more than 350 shows during their 24 years of creating fretwork.
Often people ask Ron and Patti if they use a laser machine or some other computer controlled device to produce their fretwork. The answer to this is a definite "no" as they produce their creations using techniques similar to those that have been used for centuries.
They are very conscious of the health of the people who live with our creations and of their own health. They are also concerned about depletion of the world's forests. They choose their ingredients with these principles in mind.
They have no employees in their operation and spend most of their time making and selling their craft. Their craft business is their main source of income. Ron and Patti treats their business as a very serious endeavor with quality and customer service their main considerations. They continue to explore new designs and techniques.
Demonstrations
Ron demonstrates at all outdoor shows they attend. He powers his scroll saw with a battery. He spends at least 80% of the time at the shows working on the saw. People come away with a new appreciation for their creations after they have seen them being made. Children often spend hours watching Ron's wizardry on his saw. Appreciative young people sometimes ask him for his autograph!